Informational writing is one of the most common forms of writing that we use in our everyday lives. Before teaching students any form of writing, it's important to immerse them into texts of that genre that serve as mentor texts. Mentor text serve as an anchor for the foundational skills of informative writing that you are teaching. There are so many amazing non-fiction text that you can share with your students, pulling out some favorites so students have easy access to them is a great way to kick off your informational writing unit.
What are mentor text?
Mentor text are anchor text that are used as an example for students. Students use the mentor text to help impact their own understanding and learning. The mentor text can be read during a mini-lesson to help students learn about the skill you are focusing on. A mentor text provides students with an example of the standard or skill you are working on. Reading an informational text before students begin their writing helps to set expectations for their own learning.
Mentor text can model genres of writing, grammar skills, conventions of writing, and other writing skills. A mentor text can be a short text, a teacher or student example, a picture book, or an excerpt of a longer text.
Using mentor text throughout your informational writing unit will show students that the sky is the limit when it comes to informational writing. They will be inspired by the stories that you share and gather tips from authors as they listen and learn from your carefully chosen mentor text.
1. The Book Itch by Vaunda Micheaux Nelson
"The Book Itch" is a wonderful non-fiction story to share with your students. It is the story of Lews Micheaux Sr. and the bookstore that he started in Harlem. The bookstore became not only a place where people bought books but also a place where they came together to share ideas and stand up for what they believed in. It shows the importance of reading, but also has some really great history in it. At the end, there is a short autobiography about the book store owner that is a good example of informational writing. There is also a bibliography page to show where the research was found. It is all around a really great read and the perfect book to kick off your informational writing unit.
2. Who Is/Who Was Series
These books are usually longer text, so they are a great example of non-fiction writing that uses text features and presents information. Students love these books because they are written about people and events that are of interest to them. They are great books to share to show how you can collect information about one idea and sort it into different topics.
3. The Remarkable Story of George Moses Horton Poet by Don Tate
"The Remarkable Story of George Moses Horton Poet" is the story of George Moses, a slave in North Carolina. He loved words but was not able to go to school to learn to read. He taught himself to read and became the first-ever Southern Black man to be a published writer, protesting slavery in his verse. The book is the amazing story of George's life and is a wonderful mentor text to share with your students as you explore informational writing with a storyteller's voice. There is also acknowledgments and a list of sites and books that the author used in doing research for the book. These are important to note to students that while the book was written in a storyteller's voice, much research was done to be sure that the text was accurate.
4. Freedom Song: The Story of Henry Box Brown by Sally M. Walker
Henry Brown has an extraordinary escape from slavery-in a box. This story honors Henry's determination and courage as he mailed himself to freedom. It is an excellent choice to share as a mentor text because of the lyrical rhythm that the author uses to honor Henry's love for music. Many times students feel that non-fiction text is just full of facts and this book shows the beauty of nonfiction. There is a note from the author and the letter from Henry at the end of the book, which are both important to share with students as they begin their own research projects.
5. Balloons Over Broadway The True Story of the Puppeteer of Macy's Parade by Melissa Sweet
I love, love, love this story and it is so perfect to share with students as an example of informative writing. If they've ever watched the Macy's Parade on Thanksgiving, they are sure to recognize the large floats. The book is the story of Tony Sarg and his balloons that have become the trademark of the famous parade. The book shares a bibliography to show where the author found the facts and information presented and also shares a primary source of the original ad in the New York Times from 1933.
6. Dinosaur Lady: The Daring Discoveries of Mary Anning, The First Paleontologist by Linda Skeers
The story of Mary Anning tells of her love to dig, explore, and discover. She loved looking for shells and fossils. One day, she found dinosaur bones and her findings rocked the world of science. Her findings created a whole new world of studies known as paleontology. This is an amazing book to share for students that want to embark on telling the story of how something began. It is filled with facts, a timeline, and a bibliography on its last pages.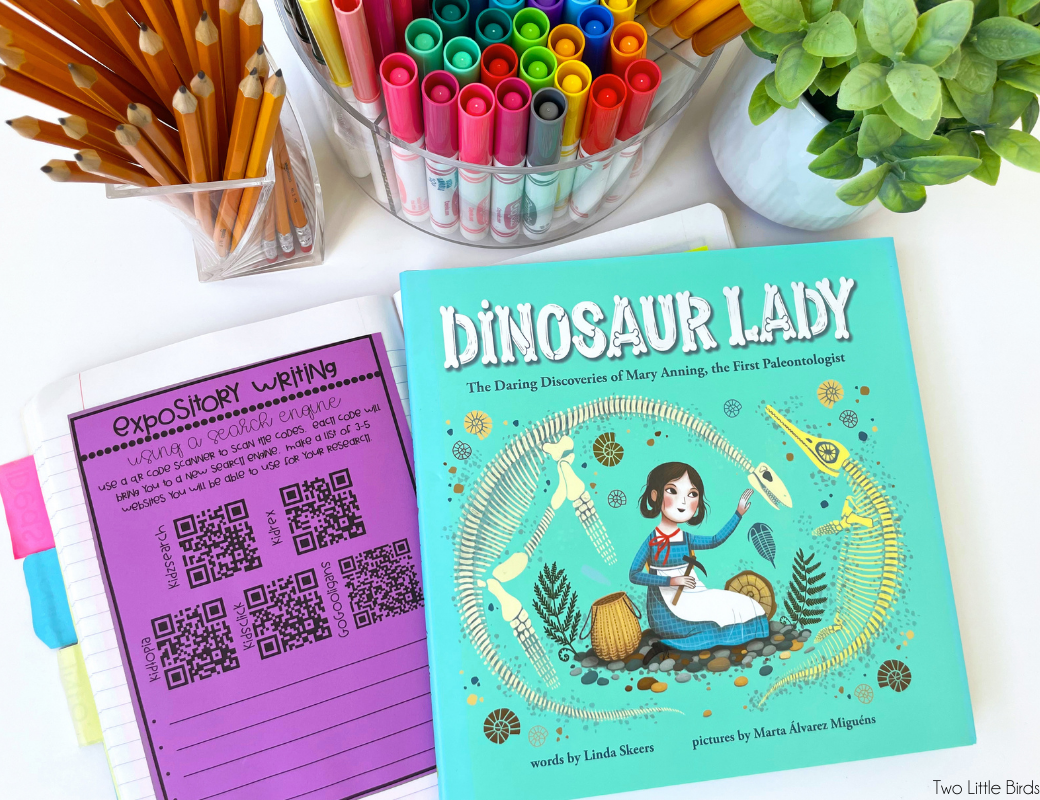 7. She Persisted: 13 American Women Who Changed the World by Chelsea Clinton
I love sharing this book as a mentor text because each woman's story is its own short text. Each short passage about Harriet Tubman, Helen Keller, Maria Tallchief, and more shows students how a short piece of writing can teach us so much about a topic.
8. Ivan: The Remarkable True Story of the Shopping Mall Gorilla by Katherine Applegate
Maybe it is because I can remember being little and hearing of Ivan, but I just absolutely love the story of Ivan, the shopping mall gorilla and it is a fascinating story to share with your students. They will be enthralled by the story of Ivan and his life as he was captured when he was young and brought to a shopping mall where he lived for 27 years. The real-life pictures of Ivan and the note from Ivan's keeper make the book extra meaningful as an informational text.
9. Ada's Violin: The Story of the Recycled Orchestra of Paraguay by Susan Hood
I love sharing this story because it is so inspiring and it helps students see past informational text being just textbooks. The illustrations are gorgeous and the story tells of a poor village in Paraguay whose livelihood is the landfill. They use pieces from the landfill to begin an orchestra and the rest is history. The book has sources cited as well as videos linked for learning as well. This is a great example to show students that you can gather information from multiple sources and media types.
10. Planting Stories: The Life of Librarian and Storyteller Pura Belpre by Anika Denise
This is an inspiring biography about Pura Belpre's life as she championed bilingual literature. She moved to America from Puerto Rico and became a bilingual assistant at the New York Public Library. She turned her retellings into stories that are shared still today. It includes information for further reading, an author's note, and more for students to see the research that was put into creating such a biography.
11. The Girls WIth a Mind for Math: The Story of Raye Montague by Julia Finley Mosca
This is another really amazing story and the author fills the book with facts, a timeline, related text, a bibliography, and even a note from Raye Montague. Raye pushes past the inequality that faces her to become a pioneer of engineering that changed the course of ship design forever. This is the third book in this series about inspiring scientists and it is a great example for your students as a mentor text for your students as they begin their own informational writing.
Sharing a variety of informational text will help open your students' eyes to the beauty of nonfiction stories. As you share each text students will be immersed in the craft of the author, absorbing the storytelling, fact presentation, timelines, and more.
I hope you found some new books to read with your students and ideas for your informational writing unit!
You might also like to read more:
Teaching Informational Writing to Upper Elementary Students
Find more tips and ideas for Writing Workshop HERE.
Shop the resources featured in this post here:
Happy Teaching!