"Tomorrow I'll Be Kind" by Jessica Hische is such a beautiful book with vibrant colors and illustrations as well as an important message.  The beautifully written, encouraging, and positive pages uplift the reader and help them see that even when we are not our best, tomorrow we can be better. Each page lends itself to great discussions and activities with the beautifully handwritten words on the page.
The illustrations are eye-catching and beautiful and the message of "tomorrow" helps open up a discussion about how tomorrow can always be better; we may have bad days, but we can think of how tomorrow is new and a time to start again.
Skills to teach with "Tomorrow I'll Be Kind":
Making connections
Theme
Inference
5 Favorite "Tomorrow I'll Be Kind" Activities
"Tomorrow I'll Be Kind" is a great book to read with students to make connections and inferences. But it is also a wonderful book to help teach character traits and action items and situations for those traits; such as being patient, gentle, honest, helpful, generous, trustworthy, grateful, and kind.
1. Generosity
The author shares that we all have ways to give back and gifts to share, which is a great time to discuss generosity with students. Many times when students think of being generous or gift-giving they think of physical gifts to give. Teaching students that they can be generous without buying a gift is important, there are so many ways to show generosity to others and the illustrations lend to great discussions about making new friends, helping around the house, and more.
Students can brainstorm a few ideas and ways to show generosity to others. You can encourage students to choose things that do not involve store-bought items, but more so gifts from the heart.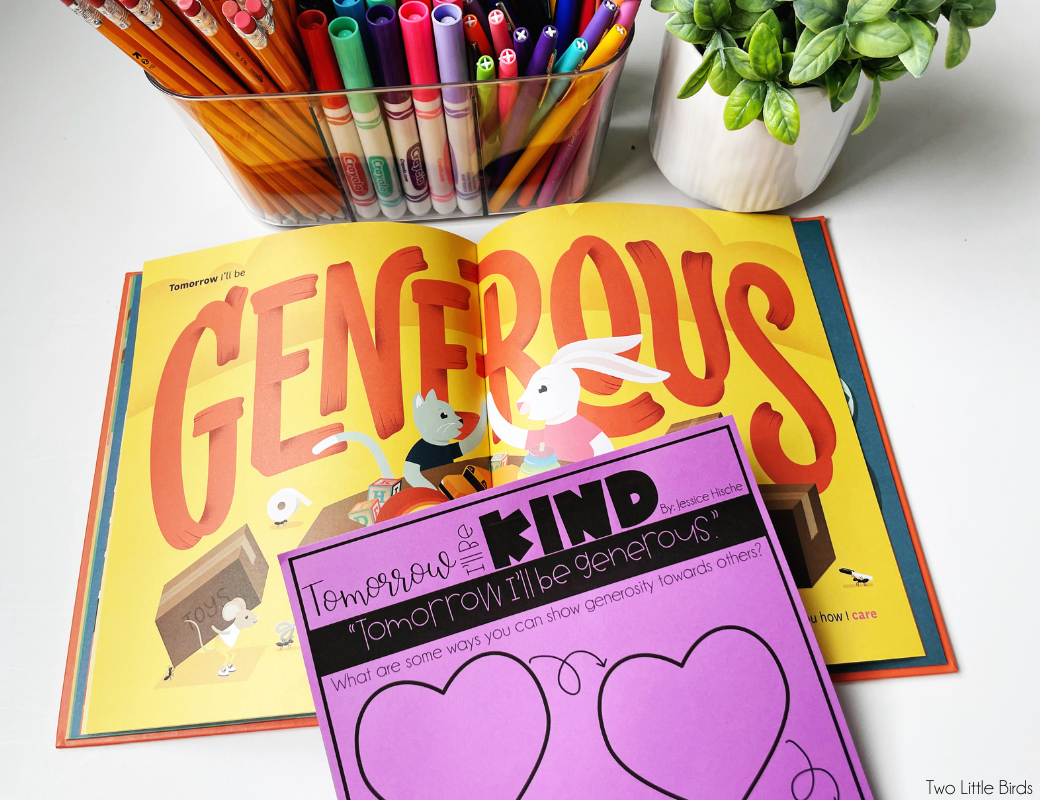 2. Honesty
"Tomorrow I'll Be Kind" has such inspiring words, and encouraging students to be honest to others and to themselves is empowering. It can be difficult to teach students about trustworthiness, but discussing ways to be honest within the classroom, at home, in the community, as well as with yourself will help students feel confident in their honesty.
Students can write about how they can stay honest and true to themselves.
3. Helpfulness
Being helpful means different things to different people (just ask my kids when I'm asking for help cleaning their rooms, lol). But helping students recognize situations when they can offer help and ways they can help when someone needs it is so important. There are so many ways that students can help each other, not only their family or teachers. This is a great opportunity to talk about how helpfulness doesn't always equate to chores.
Students can write about how to recognize when someone needs help and different ways to help someone that may need help.
4. Patience
The book displays patience in two ways, which are both great discussion starters with your students: being patient with others and being patient with yourself too. While we may easily be able to name times or situations where we have been patient with others, sometimes being patient with ourselves is just as important. When we give ourselves the same patience that we bestow upon others, we learn not to give up when we are stuck.
Students can write about three situations where they might need to be patient and how they can show patience in those situations. They can be situations involving others or on their own.
5. Gentleness
Being gentle may come easy to some children and not so easy for others. But many times when we think of being gentle, we think of our touch…being gentle to a baby, petting a dog, or playing with a sibling. But gentleness can also be in the way we handle someone's feelings and we can show compassion and gentleness in our understanding of how others are feeling.
Students can write about how they would treat a friend that is feeling left out. They can think of what to do and say so that they are gentle to their friend's feelings.
"Tomorrow I'll Be Kind" is such a beautiful book to share with your students. Your students will feel loved, empowered, motivated, and confident to be the best they can be…and even if they're having a bad day, they'll realize that there's always tomorrow.
I hope you and your students love it!
You can grab a free one-page guide for using this book in your classroom here:
You can find more of my favorite read-aloud books HERE.
And read more about why I think reading aloud is so important HERE.
You might also like to read more about these books:
Shop this post:
Happy Teaching!